As a nutritionist and health coach, I am always on the lookout for great deals on healthy foods. I have visited just about every grocery store in my area looking for options. One of the most fun places to shop is Trader Joe's! Not only do they have incredible prices, but they have some really fun items as well. 
I narrowed down my 5 favorite items for you all to try! Plus, I added a  bonus item at the end. These items were selected because each is: 
Meat, dairy, and egg-free
Oil-free
Preservatives and additives free
Top 7 allergen-free (including Gluten-free)
By eating every single one of these products, you can rest assured that you are getting the best nutrition for your body. And each item is very affordable. In fact, I have found their prices to be better than their much less healthy alternatives. Not to mention, every one of these items can be eaten by almost anyone since they omit all the top allergens. So here it goes…

1. Corn Tortillas
These tortillas are only 3 ingredients! Which is amazing. In almost all tortillas (unless you are willing to spend an arm and a leg) there are all kinds of additives and chemicals that negatively impact your health. These tortillas are not only simple but also gluten-free so you don't have to worry about any reactions if you're gluten intolerant.
The tortillas are only $1 per package and are really great to have on hand for a quick dinner or any Mexican dish. I highly suggest keeping these stocked in your pantry for when you are in a pinch. 
2. Brown Rice Pasta
Since our family has many allergies, we have to stay away from all modern wheat products. That being said, we feel like brown rice pasta is a wonderful replacement!
Brown rice pasta, unlike other gluten-free pasta, closely resembles a wheat product. It can be substituted in almost any recipe and contains much higher protein and nutrient density than the average pasta. A single bag can feed 4-6 people (depending on how much you are serving up) and is a great price!
Keep these on hand and you can make my quick cheesy pasta recipe in my "Transition to Health" cookbook when you are in a pinch. It's a crowd favorite and kid approved!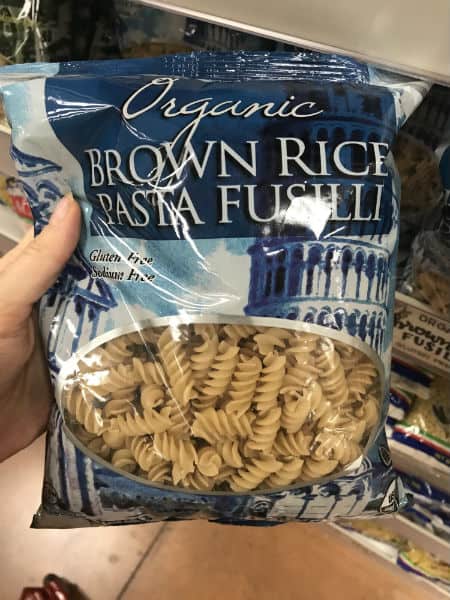 3. Spaghetti Sauce
One of the biggest obstacles with spaghetti sauce is finding an option that doesn't have oil. Trust me, I've spent hours looking over every single bottle, desperately trying to find one that was oil-free to no avail. This sauce is AMAZING! It tastes good and is good for you too. I
t's nice to use over the brown rice pasta I mentioned above but is also great in lasagna or over rice. This sauce is quite flavorful as well and boasts an organic label, which is something we want to prioritize on food like tomatoes. 
4. Coconut Milk
Coconut milk is just one of those items that is full of all kinds of preservatives, like calcium chloride or citric acid. Whenever possible, I always recommend that people steer clear of these harmful ingredients.
Almost all coconut milk contains these kinds of fillers, but not Trader Joe's! Plus, you can get organic for a cheaper price than non-organic in most other stores. This coconut milk is great to have stocked up for curry, ice cream, or soup. It is a great creamer for any recipe and will keep good for a long time! 
5. Eggplant Hummus
Hummus is yet another item that is typically steeped in oil. Not only does hummus contain oil, but it also contains Tahini. That makes for a very high fat snack (which is something we want to avoid).
This hummus omits oil, to lower the overall fat intake, but also contains eggplant that doesn't change the flavor but adds significant nutrient benefits. This is a great snack to keep on hand when you are traveling or need something with no prep. We eat ours with my fresh spelt pita recipe and absolutely love it! I hear they also have a chocolate hummus but have yet to try or evaluate it. 
Bonus: Sunflower Seed Butter
I work with a number of people who are allergic or sensitive to tree nuts. It can feel daunting and impossible when everything seems to call for almond butter or peanut butter.
Sunflower seed butter is an awesome alternative option for baking! It has a bit of a different flavor than typical nut butter but is still delicious. It's relatively inexpensive as well, so you aren't breaking the bank for a fancy alternative.
Sunflowers are actually significantly more nutritious than most nuts, so it could benefit you whether or not you are sensitive to tree nuts. Either way, I suggest you try it out at least once. 
I recognize that there are a number of other great items available at Trader Joe's that meet the qualifications of healthy. But I wanted to start off and give you my favorites that I feel are uniquely beneficial when purchased from Trader Joe's as opposed to another store. However, if you have an item you feel fits all of these, leave a comment below and I'll do an update to this post with any other great finds!