This post is a guest post by Faith Ralphs from Faithful Plateful
Fruit is nature's sweetener, and it is by far the most nutrition-packed way to satisfy a sweet tooth. Fruit is low-calorie, high-fiber, and prevents disease. Eat more fruit by swapping out less-nutritious treats with these fruity desserts.
Pineapple Dole Whip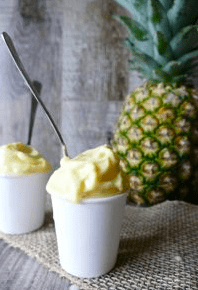 A light, tropical dessert that is so quick you'll be making it all summer.
Serves 4
Ingredients
2 cups frozen pineapple chunks freeze your own fresh pineapple or buy it in the frozen fruit section
1/4 cup canned coconut milk
A frozen banana or mango added is also a yummy variation
Directions
In a food processor, process the pineapple until it's chopped into fine pieces. You can use a blender, but it won't "whip" up quite the same.
Add the coconut milk and run the food processor for at least a full minute, until very smooth and light and fluffy.
Enjoy immediately! Add a sweetener of choice if you feel necessary, but I think it's delicious on its own.
Healthy Brownie Bites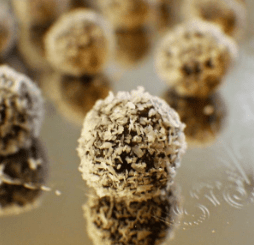 Naturally-sweetened with dates, these are little balls of chocolate heaven and require only four ingredients!
Makes 10-14 balls
Ingredients
1 cup walnuts
14 dates, pitted
2 tbsp cocoa powder unsweetened
1/4 tsp salt (1/2 tsp if you like sea salt chocolate)
Directions
If your dates are hard, soak in hot water for 10 minutes first. In a food processor or chopper, process all ingredients. Let run several minutes until walnuts are completely smooth and the mixture is shiny with the oil from the walnuts. Add a drizzle of honey if the mixture is not sticking together.
Form into balls. Roll in shredded coconut, chopped nuts, or more cocoa powder if desired. Store in refrigerator.
For a nut-free version of these brownie bites, see the "Healthy Treats" section of my blog, Faithful Plateful.
Mango Piña Colada Popsicles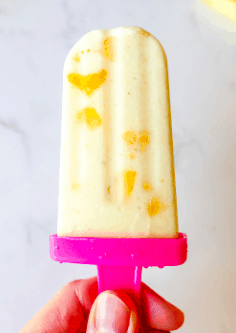 Naturally-sweetened with dates, these are little balls of chocolate heaven and require only four ingredients!
Ingredients
2 cups pineapple, fresh or frozen (not canned)
1 ripe banana
1/2 cup canned coconut milk
1 cup mango, cut into small chunks
Dash of salt
Sweetener of choice, to taste, if desired (honey or maple syrup for example. I think they're delicious without.)
Directions
In a food processor, process the pineapple until fine. Add coconut milk and banana and optional sweetener. Stir in mango chunks. Now you can choose to eat it all right now like soft serve, or spoon into popsicle molds and freeze for at least 4 hours. Both good options. 🙂
To remove, run molds under hot water and slide out. Makes about 6 popsicles.
Strawberry Watermelon Slushie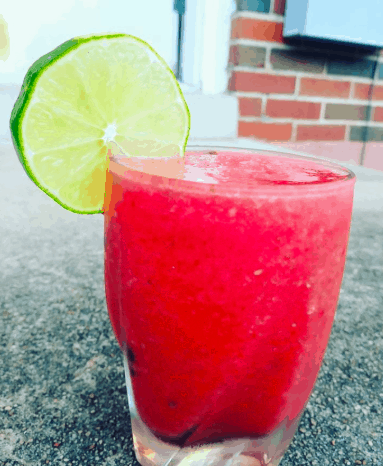 This quick combination is refreshing, low-calorie, and nutrition-packed.
Serves 1-2 people
Ingredients
1 cup watermelon chunks
1 cup frozen strawberries
A squeeze of lime juice, to taste
1 cup ice
Directions
Blend all together in a blender and enjoy!
Chocolate Cherry Chia Nice Cream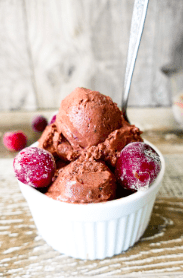 If you love chocolate and cherries, you're going to love this very nutritious treat!
Ingredients
2 cups frozen cherries
3 frozen bananas
1 cup canned coconut milk (or other plant milk, for lower fat)
3 TBSP cacao powder or cocoa powder
2 TBSP chia seeds
4 dates
Directions
Combine all into a food processor (a blender will require more liquid in order to blend). Let it sit for 10 minutes so frozen fruit can soften. Blend until smooth. Eat as is, or pour into a loaf pan and freeze until a little firmer, then scoop out to serve.
---
For more healthy treats and no-sugar-added plant-based recipes, follow me on Instagram and Facebook at @faithful.plateful, or check out my blog www.faithfulplateful.com.